Solar Hot Water Rebate - Solar Panels Rebate: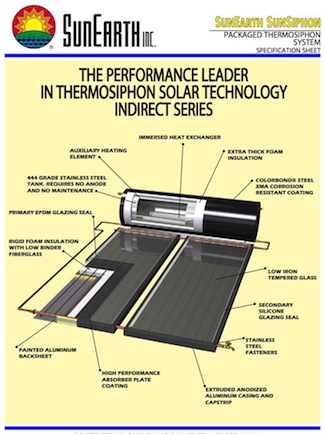 SunEarth Sunsiphon Solar Hot Water System
Building a home with maximum energy efficiency is the definition of green home design, but often the realities of money and financing require homeowners to dial back their green plans to fit a construction budget.
In an effort to assist homeowners wishing to build or renovate efficiently, and to stimulate growth in the fields of green design and construction, the federal government offers tax credits in several different energy efficiency areas.
These tax credits allow homeowners to see a shorter turnaround on their green investments and build their home as green as possible.
2016 Energy Tax Credit for Solar Energy Systems
One of the fastest growing areas of green design is solar power; more and more homeowners are switching all or part of their home's energy supply to renewable sources such as wind and solar. Unfortunately, these are relatively new technologies, and as such can be expensive to buy and install. The Federal Government recognizes the importance of renewable energy's potential to reduce our nation's reliance on polluting, nonrenewable fossil fuels, and is offering generous tax credits for homeowners who are adapting to these new renewable energy sources.
The solar energy system tax credit is 30% of the cost, with no upper limit. Qualifying solar energy systems must be installed, or "placed in service" by December 31, 2016. The tax credit is available for principal homes or secondary homes. New or existing homes will qualify for the credit.
Requirements for the 2016 Energy Tax Credit for Solar Energy Systems
Solar Hot Water Systems:
To qualify, at least half of the energy generated by the "qualifying property" must come from the sun. (i.e. the sun must be responsible for heating at least half of the home's water supply.)
The solar hot water heating system must be certified by the Solar Rating and Certification Corporation (SRCC) or a comparable entity endorsed by the state where the system is being installed.
All Energy Star solar water heaters will qualify for the tax credit.
The heated water must be used in the dwelling. The credit is not available for solar water systems used to heat swimming pools or hot tubs.
The tax credit is only available for the solar water heating system portion of a home's entire water heating system.
The tax credit includes installation costs.
For more information on solar hot water systems, see our articles here:
Heliodyne Cool Climate
Solar Hot Water Systems
SunEarth Sunsiphon
SunEarth Copperheart
Photovoltaic Systems (Solar Electricity):
To qualify for the 2016 tax credit, the photovoltaic system must provide electricity for the residence and must meet all applicable fire and electrical code requirements.
To learn more about residential photovoltaic (solar) power, see our articles here
How to Apply for the 2016 Energy Tax Credit for Solar Energy Systems
Assuming your solar energy system meets the requirements listed above, you will need to file the IRS Form 5695 and submit it with your tax return. On the 1040 form , the residential energy tax credit (from Form 5695) is claimed on line 52.
Save all receipts (or copies) from purchased products and the Manufacturer's Certification Statement for your records. This is a signed statement from the manufacturer certifying that the product or component does in fact qualify for the tax credit. Manufacturers should provide these certifications on their website. Reputable contractors should be able to assist you with obtaining these certification statements, as well as assist you with complying with the tax credit requirements. With anything tax-related, your tax return preparer can also assist you with any questions you have regarding the energy tax credits.
Submit Form 5696 with your taxes.
If you are building a new green home or renovating an older home to be more green, you are concerned with reducing your home's environmental impacts as much as possible. Taking advantage of the tax credits offered by the Federal Government can help you achieve your goals.
comments powered by

Disqus