Insulated Concrete Forms
One of the main qualifications of a 'green home' is its' ability to insulate the interior spaces of the home from the harsh temperature swings of outside air. Insulated Concrete Forms (or ICFs) are becoming a popular option for owners looking to build a super-efficient home. ICF-built homes provide several very important advantages over more traditional wood or steel-framed structures. In this article, we'll take a quick look at ICFs, and how they out-perform other types of building materials.
What are ICFs?
Insulated Concrete Forms are an innovative concept for constructing the walls of any type of structure, commercial or residential. ICFs are hollow foam blocks that are used to form the walls of a structure, reinforced with rebar. Once in place, the space between the two foam blocks is filled with concrete to create a wall system that provides unsurpassed strength, comfort, and efficiency. The foam board is Expanded Polystyrene, an extremely strong building material. The steel-reinforced concrete adds to the strength and provides exceptional insulation.
Why Use ICFs?
As we mentioned earlier, ICFs have several advantages over other forms of wall systems: ICFs are efficient, super-strong, eco-friendly, soundproof, safe, and affordable. A home built with ICF walls is comfortable, quiet, and efficient.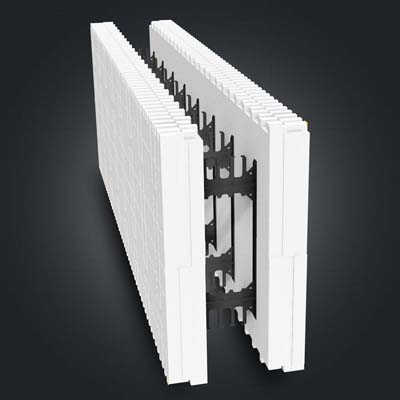 - Energy Efficient: As energy prices continue to skyrocket, building a home that's energy-efficient and long-lasting makes sense financially and environmentally. Homes built with ICF walls and efficient windows, doors, and heating/cooling systems can realize energy savings of 50% to 70% . The foam and concrete in the ICF provides a thoroughly-insulated, completely sealed building envelope with no thermal bridging. ICFs are so efficient that their use in a home can contribute up to 27 LEED certification points.
- Eco-Friendly: In addition to saving energy in the home, which reduces the use of natural resources, ICFs are sustainable in other ways. Using ICFs instead of wood framing saves at least ten trees from being cut down. There is also much less construction waste with ICFs. They do not contain any HCFCs, CFCs, asbestos, formaldahyde, asbestos, fiberglass, or other potentially harmful materials. There is no "off-gassing" associated with ICF usage, which leads to healthier indoor air quality.
- Quiet Comfort: ICF walls have high thermal mass and minimal air infiltration; this means stable temperatures throughout the home, without hot or cold spots or drafts. The high thermal mass of Insulated Concrete Form walls are also excellent at soundproofing. ICFs reduce outdoor noise infiltration into the home by 33% compared to wood-framed homes.
- Safe: ICFs contribute a high level of safety to a home. In fire wall testing, ICFs withstand exposure to intense flames much longer than wood-framed homes, giving inhabitants more time to safely evacuate and firefighters more time to save the structure. The super-strong wall structure created by the reinforced concrete ICF walls provides superior protection from earthquake damage; as recent events have shown, tornadoes and hurricanes can also inflict catastrophic damage to wood-framed structures. ICF-built homes are superior to traditionally framed homes; the concrete core provides protection from wind-driven projectiles and can withstand extremely high winds.
- Affordable: A superior wall structure made from Insulated Concrete Forms does cost a bit more upfront, but it's not as high as you might think. ICF construction typically costs around 3 to 5% more than traditional wood framing. However, that higher initial cost is quickly recouped by the energy saved heating and cooling the home. When the energy savings are factored in over the life of the home, ICFs are actually a very cost-effective construction material. Insulated Concrete Forms are financially beneficial in other ways as well; more efficient homes have higher value. A recent study conducted for the EPA Energy Star Homes Program concludes that home value increases by about $20 for every $1 reduction in annual utility bills.  There are also insurance savings associated with ICFs. They are considered part of the masonry construction class, meaning they qualify for a lower insurance premium than wood-framing. And due to their superior resistance to fire and storm damage, many insurance companies offer additional discounts in addition to the lower premiums.
- Permanence:Homes built with Insulated Concrete Form walls are built to last. Insulated concrete walls create a very solid feel for the home; both the foam and concrete in the ICF wall are impervious to rot, rust, or decay. The ICF walls of a home can theoretically last for centuries.
If you are looking for ways to build a green home, Insulated Concrete Forms are a great place to start! Green Home Source and GenOne Architectural Group endorse ICF products by BuildBlock. Learn more HERE.
comments powered by

Disqus