The Benefits of a Small Home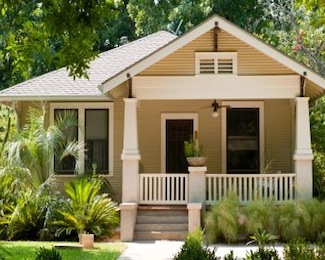 Often times, the best ideas are the simplest. The best ideas are also often the most overlooked. When it comes to homes, the best way to be green is truly the simplest: build a smaller home.
For many Americans, bigger is always better when it comes to homes. The economic booms of recent years has led to a proliferation of ever-larger homes. These "McMansions" exact a huge environmental toll in both the amount of resources and materials necessary to build them, and the large amount of energy inputs needed to heat and cool them year in and year out. Not to mention the time and materials necessary to keep them clean and well-maintained through the years.
The average American single-family home size has more than doubled since 1950, topping out at more than 2,500 square feet in 2008. The economic downturn in 2008 has led to slightly lower home-size averages, but there is much room for improvement.
A Small Home is an Efficient Home
If you're considering building a green home, it helps to think small. The greenest thing you can do is to design and build a home that fits all of your needs in the smallest space possible. This simple fact tends to be overlooked as builders and designers focus on other green areas such as more insulation and energy-efficient appliances.
Building a smaller home requires fewer resources and materials. Smaller spaces also require less energy to heat and cool. A recent study by the Oregon Department of Environmental Quality looked at 30 different ways to reduce building materials and greenhouse gas emissions in home construction. These included using Energy Star building standards, special house-framing techniques, and straw-bale construction.
Their results showed that the size of the home is the single most influential factor in determining its environmental impact. For example, reducing a homes' size by 50 percent reduces greenhouse gas emissions by more than a third. This includes the emissions generated by manufacturing building materials, transporting them, heating, cooling, and powering the home, subsequent remodels, and tear-down after 70 years.
Simply put: When you reduce the size of a home, you are reducing all of the energy inputs associated with building it and powering it throughout its entire lifetime. Building a home of any size with the environment in mind is important, and it is true that larger homes can, and should, be designed to minimize energy and resource usage. A smaller home with those same green attributes maximizes their effectiveness.
Designing the Small Home
Building a smaller home doesn't mean sacrificing quality of life. A home of any size should be designed to be lived in. For years, Americans have been building ever larger homes and putting fewer people in them. A few design changes can allow a much smaller home to provide the same level of comfort and satisfaction.
When designing a home or home renovation, it's critical to seriously think about what you truly need in your home, and then design around those needs. Eliminating seldom or never-used spaces (a good example is the super-large entryway typical in so many newer homes)and focusing on areas where the majority of time will be spent allows the home size to shrink, but not its livability.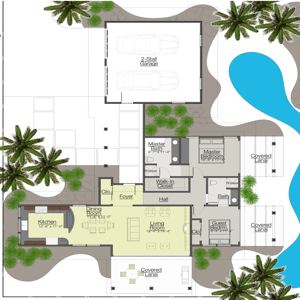 The goal of good small home design is to make less space equal more. A talented designer can create living spaces that minimize square footage while making that space seem much bigger. Techniques such as proper scale, varied ceiling heights, and creative placement of doors and windows make a huge difference. Even smaller things such as lighting and color choices can affect the 'size' of a space.
Go Small, Go Green
The trend of building ever-larger homes in a world of dwindling resources needs to change. For too long, 'keeping up with the Joneses' meant owning a gigantic, energy-wasting home.
Todays' green home designers are proving that doing more with less can be done, creating beautiful homes that minimize their environmental footprint. If you're considering building green or a green renovation, think small and be the new 'Joneses' on your block for others to try to keep up with.
comments powered by

Disqus