Blown Cellulose Insulation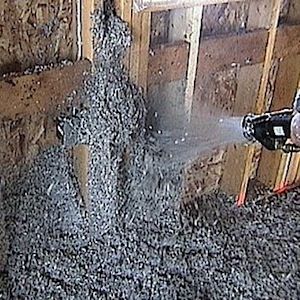 Cellulose Insulation
Although more than 90% of new homes built in the U.S. use fiberglass insulation in their construction, those wanting to take a more "green" approach to their home's construction have many other good choices.
Cellulose insulation is one of the more eco-friendly types of insulation. Cellulose insulation is, simply put, made from recycled newspaper treated with non-toxic borate compounds to resist fire, insects, and mold.
Most companies' cellulose insulation product is made from 80% or higher post-consumer recycled newspapers. Cellulose insulation has a R-value of between 3.0 and 3.7 per inch, comparable with most other forms of insulation.
Find out why the Cellulose Insulation Manufacturers Association (CIMA) calls this product the "Greenest of the Green" in this short video.
Installation of Blown Cellulose Insulation:
Blown-in (also known as loose fill) insulation is installed by blowing the cellulose insulation into place with special equipment. This work is typically done by a professional due to the complexity and messiness of the installation. It is popular for retrofitting enclosed existing spaces such as wall cavities, and is favored in attic applications because it can be blown in to unrestricted fiber depths to achieve deep coverage with minimal labor.
Dense-Pack Cellulose Insulation:
Another option for retrofitting existing wall-cavities is known as "dense-pack" cellulose insulation. In homes insulated long ago with inadequate or poorly installed insulation, a professional fills the wall cavities with a densely packed cellulose in such a way that it crushes the existing insulation without balling up the batts, achieving complete coverage of the new cellulose insulation.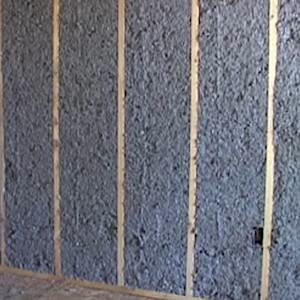 Damp-Sprayed Cellulose Insulation
Damp-Sprayed Cellulose Insulation:
While blown-in cellulose is a good option for attics and existing enclosed spaces, damp-sprayed cellulose insulation is an effective choice for open wall cavities in new home construction.
Dampened cellulose is basically the same as the blown-in option, only dampened with water and a little adhesive, sprayed directly into open wall cavities between the studs against the exterior sheating, where it sticks in place.
This provides a solid, densely packed, airtight and completely filled wall cavity that is resistant to settling over time.
The photo to the left shows a damp-sprayed cellulose insulation installation for a cavity wall. It has been sprayed and leveled and ready for installation of the wallboard.
Green Attributes of Cellulose Insulation:
As mentioned before, cellulose insulation is made from a very high percentage of recycled newspapers chemically treated with natural, nontoxic borate compounds. The Cellulose Insulation Manufacturers Association claims that insulating an average 1500 square foot house with cellulose insulation will recycle as much newspaper as an individual will consume in 40 years.
Cellulose insulation also uses much less energy to manufacture than fiberglass insulation. It is safe, fire resistant, and approved by all building codes. Tightly packed cellulose insulation provides an efficient, cost effective option for any green home.
comments powered by

Disqus